Summer in Damüls-Mellau
Bregenzerwald's alpine beauty
Hiking, mountain-climbing, walking, running, cycling…. Summer in Damüls offers unlimited opportunities to enjoy the great outdoors.
The Alpenstern is practically located at the heart of the Damüls-Mellau region and tours start straight from the hotel or a luxury lodge in your premium alpine retreat.
Nordic walking and jogging are additional sporty ways of seeing more of Damüls. Alternatively, there are wonderful tours the kids can do too, starting from the front door of the hotel.
Your Alpenstern hosts look forward to taking you on guided hikes or to providing tips for your next trip.
Factsheet: Damüls Bike destinations
Numerous mountain bike tours and trails
E-bike charger in the hotel
Free cycle transport with the Bregenzerwald Guest Card
Bicycles can be taken on local public transport buses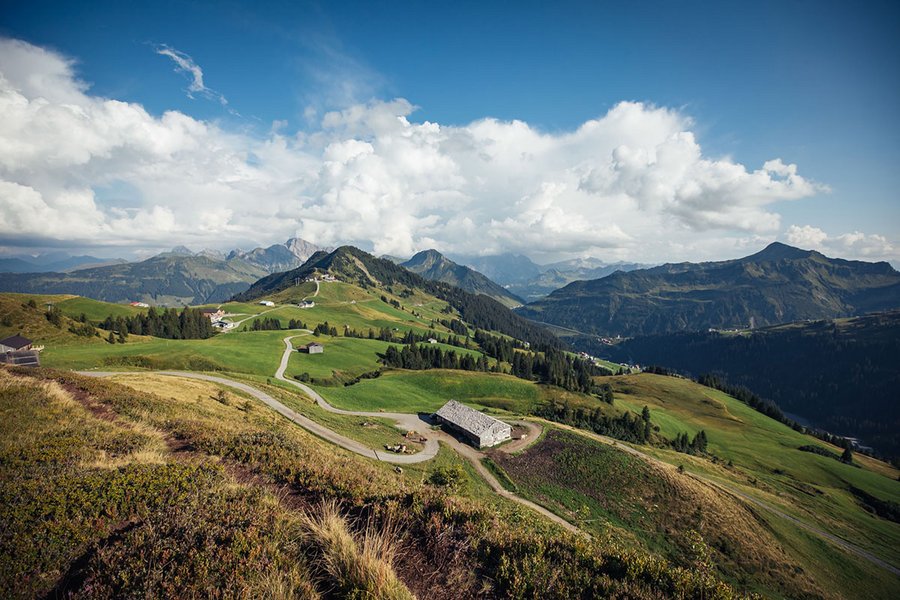 300 kilometres of
hiking trails in Damüls
The 4-seater 'Uga Express' mountain cable lift in Damüls is a convenient and scenic means of travelling up to beauty spots that serve as starting points for mountaintop treks – either on a leisurely hike with the family over local pastures, on sunrise tours up the Oberdamülser Portlahorn or on a challenging scramble to the summit of the Mittagsspitze.
Damüls-Mellau is a great trekking area for walkers of all ages, offering a variety of terrains on routes that pass crystal-clear mountain lakes, alpine pastures in bloom and a stunning summit above.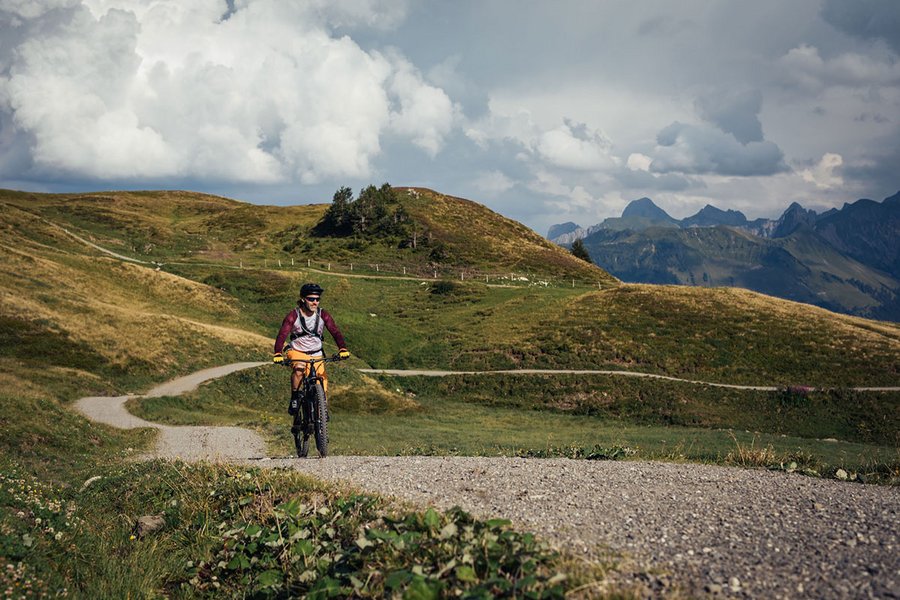 MTB and e-bike holidays
in the Bregenzerwald region
Cycle to the summit! Mountain bikes and e-bikes in Damüls

E-bikes are becoming increasingly popular and give more leisurely holidaymakers a chance to explore the Bregenzerwald on two wheels.
The Uga Express and Mellaubahn are both equipped to take bikes. This enables riders to start tours at a higher altitude.

Mountain bikes and e-bikes can both be rented from the sports shop in Damüls to ensure the benefit of the latest, best-maintained equipment for a cycle tour; so there's no need to bring your own bikes from home.
Mountain bikes can also be hired straight from the hotel and we will soon also be offering an e-bike rental service to guests on cycling holidays.
Explore the Bregenzerwald region
On a motorcycle
Motorcyclists love the Bregenzerwald region for its countless bends, challenging alpine roads and scenic passes on tours of the verdant natural scenery.
There are great day trips to South Tyrol or Switzerland, or short spins out to local lakes like Lake Constance.
The 4-star superior Hotel Alpenstern is excellently prepared to accommodate motorcyclists. As well as a free garage, we have lots of tour tips for perfect motorcycling holidays in Damüls.