Hiking in Damüls
The mountain landscape of Damüls
The right place for anyone who loves mountains and nature
With its vast array of hiking routes, the Bregenzerwald has something for everyone. From walkers to climbers, there's a route for everyone.

The region is ideal for anyone who is, or wants to be, an Alpine sports enthusiast.
Enjoy the peace and quiet and the wonderful nature in and around Damüls. Breathe deeply and clear your mind of all stress.
If you like hiking, you're in good hands at the Panoramahotel Alpenstern. We are the central starting point, located right on Damüls' network of hiking trails. The hiking paradise begins right by the hotel. From Damüls you can take various paths to the surrounding peaks, steep climbs for experienced mountaineers, as well as less strenuous routes for hikes with the family.
Circular trails, themed trails, day hikes or shorter hikes - our reception team is happy to help you choose the right route.

We can give you everything you need for your hike, from provisions, to equipment like sticks and rucksacks. You can take the local buses to the main hiking points. If there's not one, we can offer you a shuttle.
2x guided hikes weekly with hiking guide Lutz
A visit to an alpine dairy can be arranged
Book 3 nights or more and receive an inclusive Bregenzerwald Card
1x weekly guided dawn hike with mountain breakfast
Member company of Berg.Aktiv
2x weekly educational flower walk with biologist Günter Bischof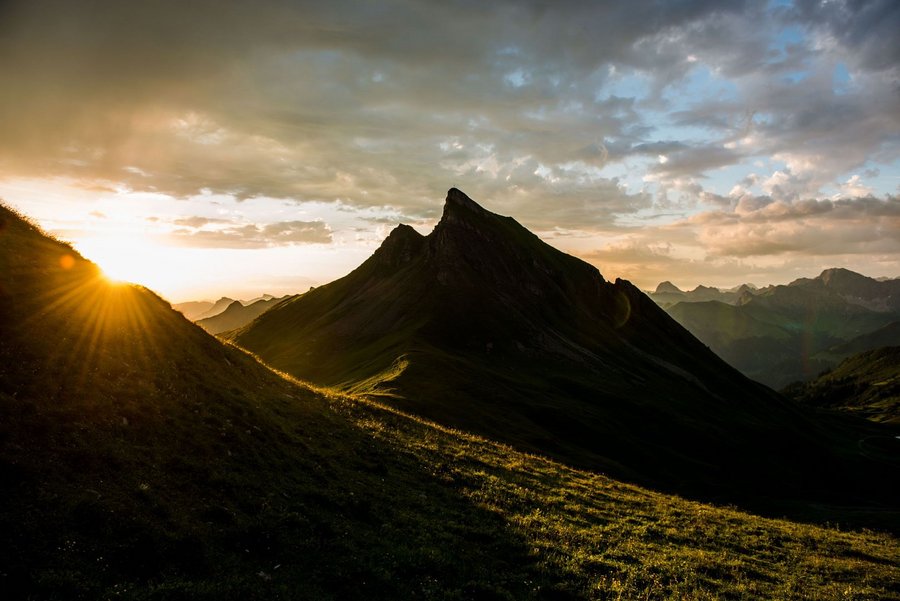 Alpenstern hiking guides
You can hike through the alpine region yourself or join one of our many guided hikes that take place every week. At the Alpenstern there are several options to choose from:
We offer special hiking packages with an overnight stay in an alpine hut, guided hikes with our trained hiking guide or a guided circular hike with our hosts.
One of our highlights is the guided dawn hike followed by a mountain breakfast in our mountain hut - we promise you'll hardly find a better start to the day.
Alternatively, there are several guided hikes throughout the week with the Berg.Aktiv! association, of which our hotel is a member. This service is included in the Bregenzerwald Card. The Bregenzerwald Card comes included if you book 3 nights or more.
Extensive network of hiking trails
The hiking trails are signposted according to the guidelines of Vorarlberg's hiking trails concept. Orientation and HIKING should be made easy for you. You will find everything easily, even without a walking map; the destination is shown at the start of the route. The signposts are mounted in the walking direction and include the key points on the route and walking times.
At the reception you can get the latest maps to make your hike as safe as possible.If you want to plan your hike in advance digitally, Bregenzerwald Tourism offers interactive maps with lots of different hikes.
Walk into holiday happiness
At the Alpenstern you will find out everything you need to know about your hiking holiday.