Alpenstern Panoramahotel
4 star superior hotel in Damüls
Welcome to the 4-star superior Alpenstern Hotel in the Bregenzerwald region of Vorarlberg. The eternally idyllic village of Damüls is a place where peace is omnipresent, far-sightedness is taken to a new dimension, and hospitality exceeds even your greatest expectations.

The Bischof and Steinfeld families, and their hotel team, provide friendly personal care and attention on your summer holidays and winter vacations. Holidays in the Bregenzerwald area are a perfect escape from everyday life, offering peace and reinvigoration at the heart of the Damüls-Mellau skiing and hiking region.

This wonderful location in the middle of the Damüls-Mellau skiing and hiking region offers supreme ski-in and ski-out pleasures. Skiing fun for all ages begins straight from the hotel ski storage room. In the summer this 4-star superior hotel is the perfect place to start a hiking or biking tour of Damüls-Mellau-Faschina in the Bregenzerwald region.
770m² of spa facilities
Fitness room / gym
Opulent buffet breakfast
Drinks and snacks at the vitamin bar
Daily sauna rituals / infusions
Weekly 'Open Kitchen'
Select your Alpenstern 5-course meal
Bregenzerwald Guest Card (summer)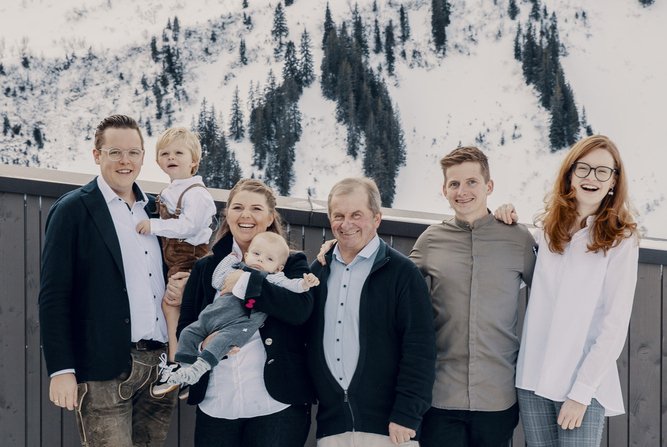 Your host families
Bishop & Steinfeld
Letting go is a good feeling. We catch you in a net of complete relaxation, enjoyment and lasting impressions in the healthy nature of Damüls in Vorarlberg.

Sincerely, your host families & the entire pampering team at the Alpenstern
Let your mind and your gaze wander – and enjoy!
Room categories
4* Superior Hotel Alpenstern Damuels
Luxurious holidays in a relaxed atmosphere
What are you up to? Spend precious time with family, your loved ones or alone to finally turn your back on the hectic everyday world. All this in the midst of the nature and mountain region of Damüls-Mellau. Here you can recharge your batteries with the first step in front of the hotel door. Ski-In & Ski-Out, Bike & Hike. Relax & recharge.